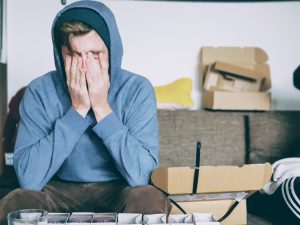 "My girlfriend is pregnant! What do I do?"

You likely never imagined yourself thinking or saying those words. And if you've found yourself in this position, your first reaction is likely riddled with fear and anxiety.

Finding out your girlfriend is pregnant can be shocking, especially if you weren't expecting it. Maybe you feel like you're too young to be dealing with this or that you're not in the financial place to bear this burden. The good news is, you're not alone in these feelings and millions of men have walked in your shoes before.

The Hope Clinic is here to help you during this time! From free healthcare and physical resources to counseling on all of your options, we're here to remind you that you're not alone. We'll provide education and a listening ear so together, you can make an empowered decision for the years ahead. 

We know it can be overwhelming to know where to start as you navigate this new season. Here's our step by step guide on what to do after you find out your girlfriend is expecting:

Stay Calm and Take a Deep Breath 

Your current reality might feel a bit overwhelming. As your mind is occupied with the what-ifs and worst-case scenarios, it's important to pause, take a deep breath, and remember you're not alone. No good decisions are made from a state of panic and worry, so before you and your girlfriend approach the various pregnancy options available to you, take time to remember everything will be okay and you're capable of far more than you could ever imagine.

Not only will this step be important for your own mental health during this time, but it will also help you be a solid support for your partner.   
Confirm the Pregnancy and Get a Free Ultrasound

Now that you've taken a moment to calm yourself and support your girlfriend emotionally, we suggest that you head to a local pregnancy clinic (like The Hope Clinic) and confirm the pregnancy with a free lab-quality test.

Even if your girlfriend has taken an at-home pregnancy test, she'll want to take another one to provide the most accurate results. This test will confirm your girlfriend is still producing the pregnancy hormone, hCG. 

Once the pregnancy is confirmed, a professional healthcare provider will help you take the next steps, including scheduling an appointment for a free ultrasound.

An ultrasound will help the doctor determine how far along the pregnancy is, whether or not it is a viable pregnancy, and if there are any immediate health concerns that need to be addressed.

If you're considering abortion, these results will also help determine which procedure your girlfriend will be eligible for and how much you can expect to pay.



Talk to Someone You Trust
An unplanned pregnancy can be one of the most overwhelming life events for a young person to experience. Before you and your girlfriend make a decision regarding the pregnancy, it's important to talk to someone you trust — whether it's a parent, friend, or trusted healthcare professional.

While we know this step can feel overwhelming, you will likely find that sharing your fears and worries will bring a sense of relief and a reminder that you're not alone.

If you and your girlfriend are ready to talk to someone about the pregnancy, The Hope Clinic is here to provide a listening ear, help you navigate your feelings, and give you advice on what option might be best for you both. 
Carefully Consider Your Options

You and your girlfriend have confirmed the pregnancy and have both taken time to share openly with trusted friends or family members. Now, it's time to take an honest look at your pregnancy options.

When facing an unexpected pregnancy, you have three options — abortion, adoption, and parenting. Deciding which of these options is best for you and your girlfriend can be a difficult choice. As you make a decision, know that the more knowledge and information you have about each of your options, the more confident you will feel in making your decision. 

Encourage Your Girlfriend
For some men, it can be tempting to brush an unplanned pregnancy under the rug or act like it's "her problem" to deal with.

While this situation can feel incredibly overwhelming and be a defining moment in a man's life, it's important to remember that your girlfriend is dealing with the same fears and worries while also experiencing immense physical changes and potential pain and discomfort.

This is an incredible opportunity for you to show up for your girlfriend and exhibit your strength and maturity through encouragement and support.

Schedule Your Free Appointment
Does this guide feel a bit overwhelming? Your friends at The Hope Clinic are here to walk you both through each and every step of this journey.

We provide free healthcare, resources, and information so you never feel alone and are both empowered to make the best decision for yourselves and your futures. We're here to remind you that you're capable of doing whatever you set your mind to and that oftentimes the best things in life come as surprises. Schedule your free appointment today!